Before you had kids, you likely said that it would never happen to you. "My kid will eat EVERYTHING!" And now, here you are with a toddler who eats only mac and cheese and buttered tortillas. It's OK mom — this is normal.
"The good news is that picky eating usually goes away as kids get older. Keep up the good work and keep offering a variety of foods to your family," says Stephanie Holland, RD, registered dietitian at Texas WIC.
Feeding a toddler can be a challenge and parents have a lot of questions. The nutrition experts at WIC gathered your most common questions and advice to help you through the toddler years.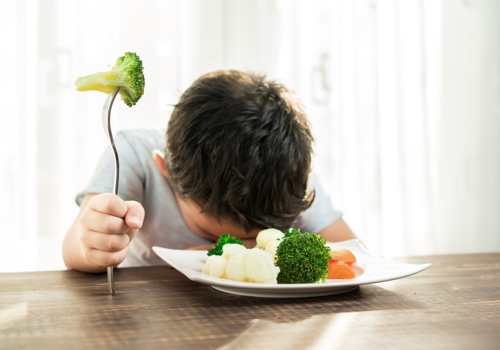 Make a game out of trying new foods. Try taste-testing new foods when your child has friends over.
Let your child choose a new fruit or vegetable to purchase at the grocery store.
Children are more willing to try new foods if they have helped choose or prepare them, so let your child help you cook meals and snacks. Check out our kid-friendly recipes, many of which have videos.
Cut foods into fun shapes with cookie cutters.
Use fruit and vegetable slices to make silly food faces.
Name a dish after your child, like "Sasha's Super Squash" or "Aiden's Apple Bread."
Every now and then, make breakfast for dinner, or dinner for breakfast for fun and variety.
I'm worried about my child. I've tried all of these and they still won't eat!
Even if your child does not want to eat new foods, simply putting them on their plate and having them touch or smell the new food is a big step in the right direction. With time, your child may begin to try the foods on their plate. 
Some children may need extra support. Follow your instincts and ask for help if something doesn't feel right.  
Expert Advice:
It's normal for children to eat more at some meals and less at others. Most children get the nutrients they need over the course of the week. If your child is energetic and growing well, they are most likely getting the nutrients they need. 
Contact your child's health care provider if you think they are having more extreme picky eating habits, especially if they are losing weight or not gaining weight appropriately.
Talk to your

WIC

nutritionist or dietitian for what kind of help is best for your child.

WIC

can help you find a local health care provider, if needed.