Your Body is Growing a Baby
Every mom's pregnancy experience is different, and this includes weight gain. It's not just the growing belly — many moms notice their whole body feels and looks different.
"Most women gain about 25 to 35 pounds during pregnancy, and that's perfectly normal. These changes to the uterus, breasts and body help your growing baby during pregnancy and help your body get ready for breastfeeding," says Michelle Poole, RN, IBCLC, Nurse and Lactation Consultant at Texas WIC.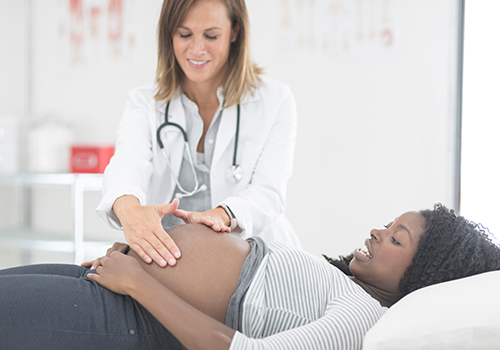 Here is a breakdown of where those extra 30+ pounds are located by the time your baby is ready to be born:
1. Baby: 7.5 pounds
Most full term babies weigh about 6 to 9 pounds at birth.
2. Placenta: 1.5 pounds
The placenta brings nutrients, oxygen and hormones to the baby and takes away waste products.
3. Uterus: 2 pounds
Your uterus grows a lot to make room for your baby. Before you became pregnant, your uterus was about 3.5 inches long and weighed only 1/6 of a pound.
4. Amniotic Fluid: 2 pounds
Your baby is surrounded by the most amniotic fluid at around 34 weeks of pregnancy. By the time baby is full term, there is less of this clear, yellowish liquid.
5. Breast Tissue: 2 pounds
Your breasts are growing as they prepare for breastfeeding.
6. Blood: 4 pounds
The amount of blood in your body almost doubles while you are pregnant.
7. Body Fluids: 4 pounds
This is the "water weight" that people talk about. If you've had swelling in your feet and ankles, you understand.
8. Maternal Fat Stores: 7 pounds
When you're pregnant, those extra pounds provide the energy that powers breastfeeding. Your body needs that extra energy to make the milk to feed your baby.
TOTAL: 30 pounds
Every pregnancy is different! If you are underweight or are pregnant with twins or triplets, you may need to gain more weight. Talk to your doctor or nutritionist at WIC to know what amount is healthy for you.