It's an exciting day when your baby gets that first tooth! Baby teeth (also called primary teeth) usually show up when your baby is around 6 months of age, or later. These teeth are important for chewing, jaw development and for the permanent teeth to come into the right spots. They also help with speech development. Permanent teeth don't finish coming in until your child is 12-14 years old, so keeping your baby's gums and teeth healthy from the beginning are very important!
Keeping Your Baby's Teeth Clean
Protecting those little teeth starts with keeping them sparkling clean.
Wipe your baby's gums with a clean washcloth or baby toothbrush twice a day from the beginning. This helps your baby get used to having her teeth cleaned. Once your baby shows a tooth, the American Academy of Pediatrics recommends using a smear (the size of a grain of rice) of fluoride toothpaste to remove sugars in breastmilk or formula that can cause tooth decay.
Never put your baby's toys, spoons, bottles or pacifiers in your mouth. The germs that cause tooth decay can transfer from your mouth to hers.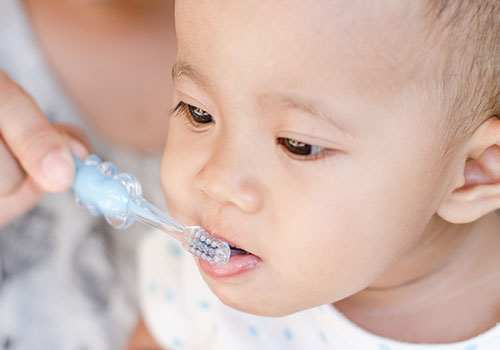 Bottles are an important part of many babies' first year, but as your baby gets older, using a bottle can cause problems for her teeth. Improper use of a bottle can lead to early childhood caries (or cavities) and even tooth decay! 
Follow these tips:  
Don't let your baby fall asleep with a bottle in her mouth.  
Don't put juice in your baby's bottle.  
When your baby turns one year: 
Don't give any bottles at naps and bedtime.
If you do give a bottle at bedtime, fill it with a small amount of water.
Try to finish weaning your baby from the bottle by 15 months of age.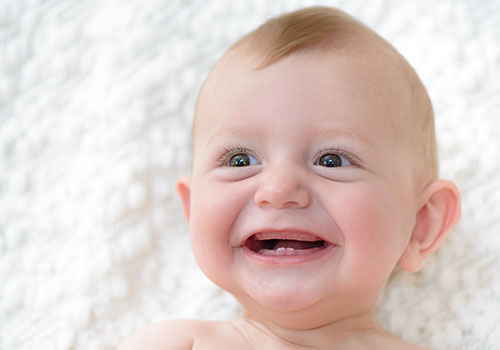 Nice to Meet You, Dentist!
Take your baby to visit the dentist before her first birthday. The dentist will check your baby's mouth for problems and talk to you about how take care of her growing mouth and teeth.